Tips on decorative painting hardwood floors CT mural artist
MJP Studios -241Brandford Rd. North Branford, CT. 06471  Ph 203.488.1265
Received a letter from someone wanting to paint their own wood floors with a decorative design. They were concerned about cracks or seams where two boards meet and what to do about it.
Here is here what she wrote:
Marc,
I purchased a 1972 home and am planning to paint the floors throughout the entire main level (2000 square feet).  I love your website and I particularly like the very contemporary pattern on your site with white base and black hexagons.  My question is…..the floors are plywood and have seams.  I can fill the seams but after filling and sanding, I am worried they will still be visible after painting/stenciling.  Is this true and is there a sure proof way to hide the seams?
Thank you!
I wrote her back:
We usually paint over hardwood floors. Wood expands and contracts from summer to winter. So space between boards opens up in the winter. We've done floors that are very tight with no problems and others with seams that open up especially over light colors where it will be more obvious. Some people like the spaces.
You can fill the cracks and seams with hardwood floor putty, but there is the possibility it will dry up and crack again down the road in 2-4 years and sometimes not.
In your situation I would sand the floor, primer it and then use a Porch and Floor paint. Its made for floors and is durable. I have done some floors that are so tight you never see a seam and others that you do over time.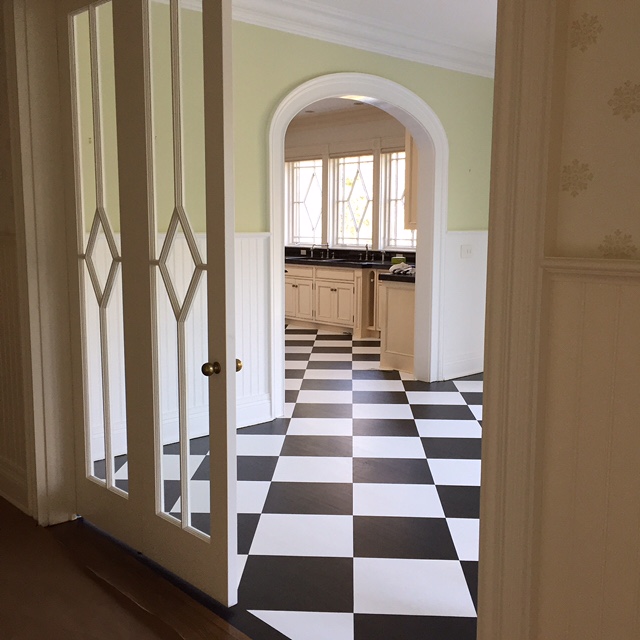 The darker the floor the less you will notice seams of any kind. Depending on the design it sometimes looks cool to leave the seams alone. You can afterwards clear coat the floor in any sheen, flat to high gloss and that will give extra seal and protect the artwork. Just like clear coating a hardwood floor.
I would I hope that helps and good luck with your project.
Marc
For more information on decorative painted floors and floor finishes contact us at:
MJP Studios -241Brandford Rd. North Branford, CT. 06471  Ph 203.488.1265