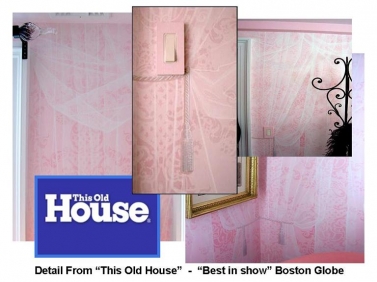 Marc's work has been featured in magazines and newspapers such as New England Home, The Hartford Current, The Boston Globe and others. His work has appeared on the television show "This Old House". His work was awarded best in show and "Extreme Home Make over". Marc's work has been exhibited at the prestigious "Salon" – A gathering of international decorative painters and artisans, by invite only. Many of his works are also featured in a new book called "Mural Painting, Secrets for success" and "Designer Faux Finishing.
Daniel Parillo spent summers as a kid traveling between his local home and his grandparents' goat, chestnut, and fig farms in Caserta, Italy. There, in his grandmother's kitchen in the…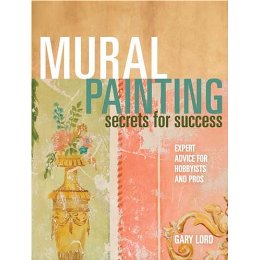 Mural Painting Secrets for Success
will give readers the tools they need to paint fantastic wall murals following the latest trends, including holographic metallics, 3-D effect paints and stained concrete. In addition to the 23 step-by-step demonstrations, a gallery of more than 20 inspirational photos will serve as idea-starters for readers and their clients. Ambitious readers will be able to follow the
authors
expert advice on running a successful mural painting business including how to network and market, negotiate contracts and pricing and work effectively with clients. Contributing artists have offered their own advice and testimonials as additional inspiration.
spMarc Potocsky- Faux Marble DVD
Marc Potocsky is a highly skilled decorative painter, muralist and designer who has been practicing through his Connecticut studio for almost 2 decades. Marc is dedicated to the arts of centuries past, fusing art with architecture, color with texture, and the practices of the old masters of today. In this DVD, Marc will demonstrate how to create three faux marbles including White Carrara, Sea Green, and Yellow Sienna in acrylics.
Some of Marc's work is featured in this book on Faux Finishing.
Faux finishing, or decorative painting, is the process of applying multiple layers of interior house paint and glaze to craft a textured or photo realistic pattern, such as wood grain, marbling, a cloudscape, and onward to more complex murals and trompe l'oeil. Most of the other faux-painting titles in the market focus on either room shots *or* finished paint swatches but do not successfully evoke both inspirational and hard-working images. Designer Faux Finishing fills that empty niche.
New Haven Register
PHOTOS: Sneak Preview of the Newly Renovated and Expanded Yale Art Gallery, New Haven
The Yale Art Gallery's newly renovated and expanded exhibition space now spans three buildings. The renovated and expanded galleries will open December 12, 2012. Not all of the wood is "wood." This was faux painted by MJP Studios, North Branford. Mara Lavitt/New Haven Register 5/8/12
The Yale Art Gallery Restoration Project- Faux Bois (Wood) 2012
"Trading my sticks in for brushes." Check out this article Sandra Castillo did on yours truly in RG Magazine. Thanks Sandra!

  SUBSCRIBE FOR THE LATESTSign-up for free to be in the know of new content, giveaways & more. I agree to have my personal information transfered to MailChimp ( more information ) I will never give away, trade or sell your email address. You can unsubscribe at any time.…
 Painting Rob Gronkowski