By Ryan Kristafer Published: August 3, 2017, 8:53 am Updated: August 4, 2017, 3:12 pm
Cruisin' Connecticut – Renowned Artist Leaves a Mark in Hometown
NEW HAVEN, Conn. (WTNH) — This morning, we are Cruisin' Connecticut to New Haven, home of the new Vanity on Temple. Originally "The Playwright," the downtown venue is being renovated into an upscale dining and nightclub experience.
Vanity on Temple, General Manager Frank Scotto explains the concept of the restaurant:
New Haven being a historic town with a lot of rich history, we kind of wanted to keep that. We figured out a way to restore everything, but still modernize it so you can have a luxury dining experience and an incredible nightclub experience.
There's around $250,000 worth of sound and lighting being installed at the new Vanity on Temple… but that's not the only masterpiece you're going to see up in the ceiling.
Like a beautiful relic in Europe, but right here in the Elm City. Renowned artist and New Haven native, Mark Potocsky was commissioned to craft a beautiful sky ceiling.
I said, you know if you want to make it a little more interesting… there's an artist called "Tiepolo." He's an Italian artist from the 16th / 17th century. We then decided we were going to put some of those figures up on the ceiling.
Potocsky's art delves into all different types of styles. But this one – he was in it for the long haul; he was up on scaffolding, painting the ceiling for a week and a half. And then he spent another fives days to do the figures.
We wanted somebody who could really bring to life, the old Newport-mansion-type feel. We wanted to have that beautiful ceiling, that beautiful artwork… and he was just the guy for it. and being local from New Haven was just an added bonus, said Scotto.
Potocsky says painting is theraputic for him and brings him into a zone where he gets "lost:"
Yeah… I'm able to put my art work around town, and I'm loving it!
You can see Marc Potocsky's sky ceiling art at the opening of Vanity on Temple Street in New Haven on August 25th.
Vanity on Temple: 144 Temple Street, New Haven, CT 06510
Know of cool people, places or events to check out for "Cruisin' Connecticut?" Email me, or let me know on: Facebook, Twitter, Instagram or Snapchat: @RyanKristafer
Cruisin' Connecticut – Renowned Artist Leaves a Mark in Hometown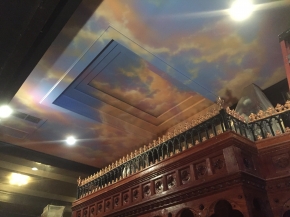 Contact Me

For questions or a quote, please feel free to contact me using the form on the right or the information below:

Contact

Marc J Potocsky
M.J.P Studios
241 Branford Road, Unit 254
North Branford, CT. 06417

203.488.1265
Email: mjpfaux@aol.com

Serving Locally: Cheshire, Greenwich, Guilford, Madison,New Canaan,Darien, Easton, Ridgefield, Westport, Weston, Wilton, Connecticut-CT. & New York-N.Y, Manhattan, The Hamptons, Newport, RI.,Rhode Island and New England for over 16 years!
Also: Marc Potocsky Youtube Video Clip Painting Rob Gronkowski New England Patriots