CT Portrait/Mural Artist- How to portrait-part 1
Step by step portrait of Katy Perry.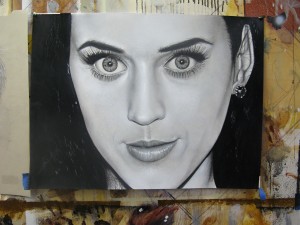 First we new a good photo.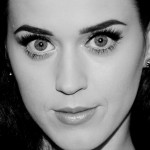 I picked Katy Perry because I liked the quality of the photo and because she is a well known celebrity that most people would recognize.
Supplies that I use.
Bristol board 300 or 400
Pencil erasers
Pencil sharpener
Kneaded
eraser
Graphite pencils h,b,2b & 4b.
Mechanical pencil dark
Small softening
brush
Black & white charcoal pencils.
Paper towels or soft t- shirt
rags.
Grayscale value finder.
Fixative spray
You can project your image from a photo or use the grid system. In this case I used a projector to get the basic image sketched out rough with a h pencil.
For me as an artist drawing is foundational. Drawing is very important part of portrait work. A painting is only as good as the drawing underneath. I always start with the eyes. If the eyes aren't right than I usually will not continue and will start another project.
Up until now its all been hard line. I have started to do some blending above the eye lashes and eyebrows, below the bottom lash and in the corner of the whites of the eyes. I have not used any white charcoal at this point.
In the next part 2 we will begin working on the rest of the face.
CT Portrait/Mural Artist- How to portrait-Part 1
From
 Related articles – Portrait painting- Norman Rockwell Part 1
 Portrait Art Painting Photo realistic  by Marc Potocsky