The Famous Ruth's Chris Steak House Mural
Last Year I was commissioned to Paint a mural for Ruth's Chris Steak House in Newington, CT.
We decided with The client to do it in old sepia tone or tone on tone / grisaille.
Our reference photo was the original Ruth's Chris in New Orleans, Louisiana.
The mural was quite large, nearly 22ft. long. We couldn't project so we did a transfer using tinted chalk mixed with lighter fluid, making a paste that allow are paper to transfer the image.
Here's my assistant Christie Biotti sponging on the chalk to the back side of our printouts.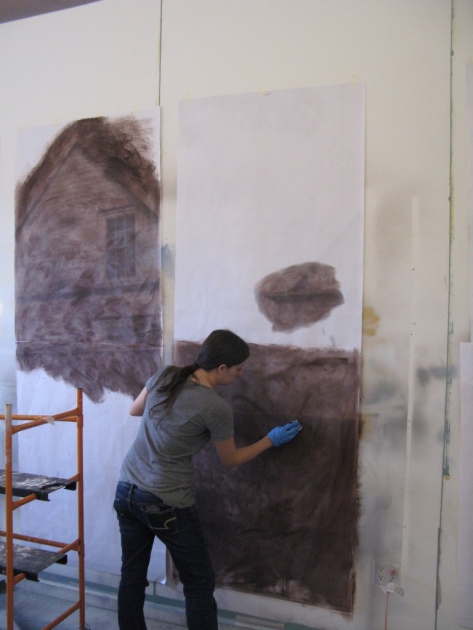 Sketching in and begin painting.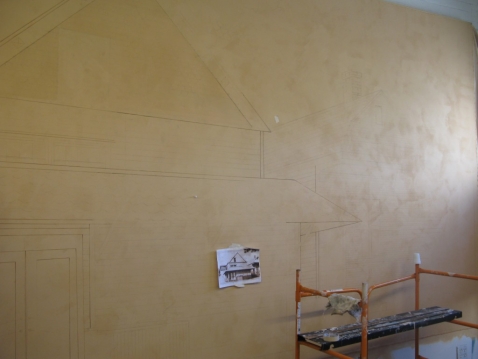 I Decided to do the Sky is a pale blue grey so the the sepia would pop even more.

Also a Little color to the Trees.
Getting there!
It was hard ti get the whole mural in the photo because of the short wall.
We installed the Mural and the clients Loved it. They were so good to us, when we finished they gave us a free dinner. I must say if you are a steak lover it was the best I've ever had. Cant wait to go back!
MJP Studios specializes in Murals and Portraiture in all mediums. People portraits, Pet portraits, Family Portraits.
For more info and pricing go to – http://mjpfaux.com/potraits-people-and-pets/
Also see- Mural Painting
Marc Potocsky specializes in portrait painting and drawing s and in large scale portraits created by MJP Studios in private residences in Connecticut and New York including Westchester county and Around the USA. We work from photographs of the subject and portraits can be shipped anywhere in the USA.
MJP Studios/ 241 Branford Road. North Branford, CT. 06471
Marc Potocsky- MJP Studios
Mural Painting by Connecticut Artist Marc Potocsky at Ruth's Chris steak house