A faux painted marble floor is the preparation, painting and finishing of a surface to imitate the appearance of real polished marble. Why would you use a painting technique when you could have the real thing instead?
Many people like the fact that it was Faux/False and makes  great conversation piece.
Some buildings can't handle the weight of marble.
You don't need a building permit to paint.
Some classic antique marbles are extinct and quarried out. They don't exist anymore.
And Finally people love art an appreciate this old world art form.
Over the centuries, it has become a most sought after art form. Faux marbling is a special case of faux painting used to create the distinctive and varied patterns of marble – the most imitated stone by far.
"The Italian school was loose and artistic; the French school was formal and realistic. It typically took an apprentice ten years or more to fully master the art. The sophistication of the techniques are such that visitors are frequently unable to distinguish between false and real marble in many churches, palaces and public buildings in Europe". From Wikipedia, the free encyclopedia
The following photos are some of the most realistic and beautiful faux painted marble floors I've painted. Other artists are also featured. Which one do you like the best and why?
1. Italian Style Faux Painted Marble Inlay Floor
faux painted marble floor in the Italian style
2. Faux painted Pietra dura ( which means Hard rocks or stones) and faux tavertine stone block.
3. Faux painted Carrara Marble with faux wood grained walnut.
4. Faux painted Italian inlay-ed tile floor, CT.
5. Faux semi-precious stone painted on wood floor.

6. Faux painted white marble with black diamond inserts, CT.
7. 
Faux Marble Painted Linoleum Floors In A Brooklyn Rental- Apartment Therapy

8. Faux painted  marble by Mark Hampton,

9. Stenciled stone like floor by Kathy Wear

10. Exquisite Faux Marble design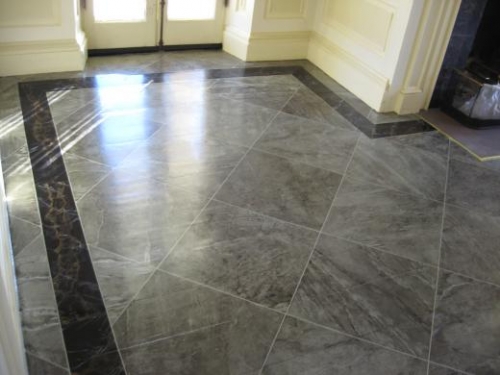 Faux Marble and Trompe l'Oeil Ornament & Molding
Prismatic Painting Studios, 11126 Deerfield Rd, Cincinnati, OH 45242
http://www.prismaticpainting.com/Potocsky.lasso
3 Day Workshop | $795
Cincinnati | Sept. 30-Oct. 2, 2013 | 9am-5pm
Join Marc Potocsky for a 3-day intensive Faux Marble and Trompe l'oeil Ornament and Molding class. Students will complete four unique marble panels (Portoro, Sea green, Red Grotte, Paonazzo and/or Carrara) Note: Possible variations. One panel will be enhanced by a three dimensional/bas-relief molding and ornament. Students will practice marble structure and design that can be used to imitate a variety of marble. Students will learn how to layout a design and the steps to paint realistic three dimensional ornament and molding that can be adapted to many other decorative projects. The knowledge and experience you will gain in this class will help bring your ability and business to another level.